The Summoner's Rift is the most commonly used Field of Justice.
The map was given a graphical and technical update on May 23rd, 2012 and remade from scratch on November 12th, 2014.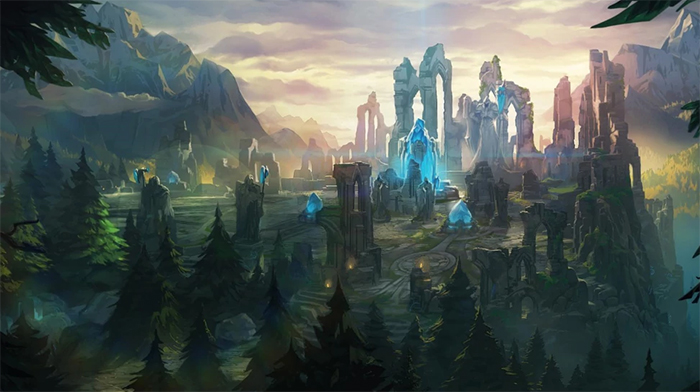 League of Legends Summoner's Rift is located in a remote forest between Freljord, and the Ironspike Mountains. The Summoner's Rift is one of a few locations in Valoran where magical energy is at its greatest concentration, making it a highly sought-after locale to pursue magical endeavors.
Historically, the forest where the Rift resides was the site of several battles between two summoner factions symbolized with the Stag and Owl crests, they sought out to use the natural magical energy of the area for their personal use.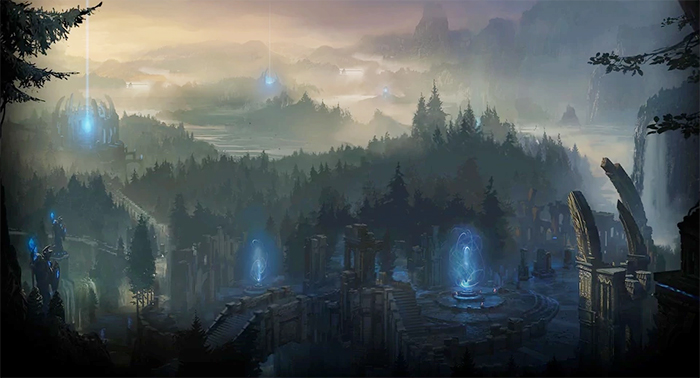 The large amount of concentrated magic has mutated the local wildlife. From giant frogs, giant birds to two headed wolves it has also attracted the attention of a powerful Dragon who currently resides in one of the battle torn ruins. Sentinels, Bramblebacks and Krugs are creatures made from local flora and earth infused to construct a magical being. The Rifts unstable magic has inadvertently cause the reemergence of Baron Nashor, a large Serpent/Worm largely believed to be dead for centuries. It has his corruption affecting the land around him.
Other known creature that live in this area are species of forest chameleons, ducks, Antlermice, crows, dragonflies and butterflies.
The newest and most venerated battleground is known as Summoner's Rift. Traverse down on of three different paths in order to attack your enemy at their weakest point. Work with your allies to siege the enemy base and destroy their Nexus!
The objective of Summoner's Rift is simple – destroy the enemy nexus. In order to do this, champions must traverse down one of three different paths (or lanes) in order to attack their enemy at their weakest points they can exploit. Both teams have their lanes defended by numerous turrets; each turret grows in strength the closer it gets to its respective nexus and each turret must be eliminated in order to gain access to the next turret in that lane. Cooperating with fellow summoners is an absolute requirement for success, as it is easy for a champion to find themselves ambushed by enemies in the lanes of the Rift.